A recent Associated Press story caught my attention.  It announced an $8 billion dollar wind power project to provide electricity to Los Angeles.  The sub-headline said that sites in Wyoming and Utah would be involved.  What was so intriguing was the remoteness of source and application.   
Four companies, Pathfinder Renewable Wind Energy  , Magnum Energy , Dresser-Rand Industries , and Duke-American Transmission Company  plan to submit their joint proposal to the Southern California Public Power Authority  in early 2015.  It includes a wind farm in Wyoming, an energy storage facility in Utah, and a $2.6 billion, 525 mile transmission line linking the WY and UT sites as well as connecting to a Colorado site before transmitting the electricity along an existing 490 mile transmission line to California.  The claim is that enough energy will be created to serve 1.2 million homes.  
The numbers are impressive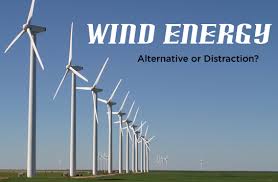 But the distances imply tremendous energy losses, to say little of the storage technology.  The project calls for building a $4 billion, 2.100 megawatt wind farm in Chugwater, WY, 40 miles north of Cheyenne.  Electricity will be conducted along the new transmission lines to Delta, UT, 130 miles southwest of Salt Lake City.   
The energy created would be stored at the Delta, UT site using underground caverns in existing salt formations.  The storage technology is called Compressed Air Energy Storage (CAES).  As with most energy storage technologies, the practicality depends somewhat on arbitrage.  At times of low demand, excess electricity from wind would be used to compress and inject high pressure air into the caverns, each of which having a 41 million cubic foot volume.  At times of high energy demand, the high pressure air would be combined with natural gas to fire as many as eight electricity producing generators. 
Compressed Air Energy Storage 
CAES is not a new technology.  Future posts will deal with other forms of electrical energy storage.  It is relatively low in cost, enjoys a long useful life, and has good efficiency.  On the downside, it requires special siting (which is ideal for the Utah caverns) but CAES suffers low energy density  and power density.  Add to this the heat loss in long transmission lines and conversion, such as from electricity to air and back, diminishes efficiency.  
Will it work? 
Undoubtedly, it will work but at what cost?  Is the tax payer on the hook for any subsidies?  Nonetheless, as we pursue all options for energy independence, it is probably worth the effort.