What could possibly be the connection amongst these three obviously disparate concepts? 
Money Ball 
Baseball fans know the movie "Money Ball" about the 2002 Oakland A's and their iconic then 44 year old General Manager, Billy Beane .  This fabulous movie starring Brad Pitt as Billy is as much about Lowest TCO as it is about baseball, two of my most cherished passions.  From 2002 to present day, the Oakland team has the highest win percentage as a function of team payroll.  For the past dozen years, the A's sport a win percentages comparable to the NY Yankees, Boston Red Sox, St. Louis Cardinals, and other high profile MLB franchises but with a fraction of their payroll.  
I heard Beane deliver the closing keynote at an Alternative Investments conference in Denver last August at which I spoke on Oil & Gas opportunities.He spoke of the parallels between investing and baseball success.  Beane gained baseball immortality by hiring a nerdy recent college grad economics and math whiz from Yale who had never played and knew pitiful little about baseball.  This pair of geniuses were able to reduce the "art of winning baseball teams" to a more reliable science using facts measure by "Dollars and Numbers" ($'s & #'s). 
Beane stressed that the best business decisions are made on the basis of hard data, not by looking at the allure of the prospect, but at the $'s & #'s.  Beane's success over the ensuing years is based upon some startling data.  For example, the number one predictor of a baseball player's value and contribution to team success is his on-base-percentage (OBP)  – not his fielding accuracy, throwing arm, batting average or power, base running, or other skills and talents.    
Virtually every personnel decision was analyzed by a cost algorithm.  Beane found that bunting or stealing a base did not positively contribute to the winning percentage.  He also found that paying "$3 million bonuses" to high school prospects was a waste of money as they had not undergone the extent of player development at a college kid had experienced and are therefore far too risky.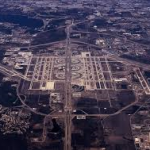 DFW International Airport 
A few years after moving to the DFW metroplex in 1999,  the Boeing Company sought to relocate its corporate offices.  Chicago and Dallas were two finalists.  Anyone who travels extensively knows these two city's airports well.  Chicago has the cramped O'Hare and older in town Midway airports.  Dallas has spacious DFW International and Love Field closer to town.  
Despite the superiority of the Dallas airports, the aerospace and defense giant chose Chicago.  Boeing cited the vibrant street life of Chicago, America's third largest city compared to the uncluttered casual street life of Dallas the 8th largest city.  One of the things I noticed when considering the metroplex was that on street parking was plentiful in Dallas and Fort Worth.   
In retrospect, the loss of Boeing was not meaningful in terms of economic impact.  While it would have been a prestigious "get", for the north Texas business community, they only relocated a few hundred execs.  All other jobs stayed at its facilities around the world.  Boeing chose Chicago. 
A major contributing factor to relocating to the DFW metroplex was the airport.  I was flying 100,000 miles per year, mostly in the US.  My Rhode Island home was only about 35 miles from Boston's Logan Airport but the Big Dig, which went on for a dozen years, made that commute at least 90 minutes.  Add a six hour coast to coast flight, plus the time change, and the travel day was shot.  If I had two weeks booked back to back on the west coast, it made no sense to fly home all day Saturday and fly back all day Sunday. 
As with Toyota's decision to move to north Texas , mine had other factors as well. The weather, political climate, spirit of the Texas people, and economy all had an impact.  So did the reduced travel times and nonstop flights to almost anywhere in the US and many foreign destinations. 
Lowest Total Cost of Ownership (TCO) 
Practitioners of professional purchasing are not surprised by the Beane or Boeing decisions, or their success for that matter.  It is all about $'s & #'s. In other words, it aint about the price, it's the cost!  The Lowest TCO  is a sound business concept that applies well beyond purchasing.  It is the basis for Billy Beane's baseball success and DFW International's role in attracting business and boosting the north Texas economy.