A November post (link) cited Rail Cars, Energy Independence, and American Entrepreneurship.  Building upon that foundation, let us add gas flaring into the mix.  In a November 11, 2014 post in Oil Pro authored by Chris Faulkner, Chief Executive Officer at Breitling Energy Corporation, hardly an uninterested party, presented a persuasive argument about why building pipelines is more environmentally friendly than carrying hydrocarbons in rails cars.  His rational argument has few substantial counter arguments.   
According to Faulkner, "Almost 40 percent of the natural gas recovered in the U.S. is currently flared off."  That is a stunning waste of energy, but why? 
According to the Energy Information Administration (EIA)  , North Dakota's Bakken Formation accounts for 22 percent of all the natural gas flared in oil and gas operations throughout the US.  At today's prices, that amounts to about $3.6 million per day wasted. Texas is close behind, flaring 20 percent of the natural gas.
Why flaring?
Good flaring is a safety measure.  It relieves pressures and allows safe gas removal in case of equipment failure.  Regrettably and shamefully, most flaring is due to lack of pipelines, refineries and other transportation technologies necessary for getting natural gas to market.
For the first time in four decades, a new oil refinery is being built in this country in the ND Bakken formation.  Even though pipeline is the cheapest, safest, and most efficient way of moving petroleum products, ND has little existing pipeline infrastructure. The oil and gas industry has invested $6 billion in the Bakken formation alone in building the infrastructure required to move natural gas from drilling locations to domestic and foreign markets.
That's great, but it's a tiny fraction of what it's going to take to eliminate the flaring of natural gas that has nowhere to go: according to a study by ICF International, an industry consulting firm, natural gas infrastructure in the US will require about $30 billion a year for the next 20 years. The ICF study estimated that the industry will need about "35,000 miles of new transmission pipeline and more than 300,000 miles of gathering lines". 
Obstacles and solutions 
According to Faulkner, the (Oil & Gas) "industry has submitted 26 applications to build new export terminals. Those applications sit, stuck in the bureaucratic thicket that is the Department of Energy's approval channel. Some have been pending for almost 3 years.  Worse still, the Environmental Protection Agency drags out the approval process for new gas pipelines. The average pipeline application now takes up to 18 months to get finalized."
Faulkner's statements as to bureaucratic resistance and damage to our economy and environment are fair and accurate.  Producers must flare gas, burning billions in natural resources, and millions in the loss of good paying jobs.  The ICF study concluded that midstream infrastructure spending could generate more than 400,000 jobs and $300 billion in tax revenues.
Faulkner claims that, "flaring in North Dakota alone creates 1 million cars' worth of emissions every year."  No matter the exact figure, this waste is shocking.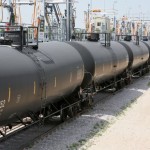 Enter the railcar industry.  The lack of pipeline creates a booming opportunity for railcar transportation, the only other realistic alternative.  Companies owned or controlled by Warren Buffet, (of BNSF fame), Union Tankcar and Carl Icahn's American Railcar Industries, Inc. are rolling in good times and surging orders.  Bloomberg  reported that the backlog last quarter reached an all-time high of 42,900 freight and tank cars, the most in the 27 year history of data compiled by Bloomberg.
Railcar production will take time, time which should be used to build pipelines.  Even if car production catches up, pending so-called environmental regulation may force 80,000 units out of service for "safety reasons.  Most will be too expensive to retrofit so the estimate is that 50,000 will be scrapped. With the rail car shortage extending into construction materials (cement, sand & gravel), grain, chemicals, auto mobiles, and other areas, the best solution is clear.
Build more pipelines.