On Wednesday, 22 June 2016, I again have the good fortune to serve the International Sign Association with a workshop talk at its Converge meeting in St. Louis.  The ISA, as are many other industry groups, provide a "Purchasing Track" because members and suppliers like recognize that purchasing is the single most efficient generator of profitability in all of business.
Last year in Denver, the topic was "How Buyers Think, Decide, and Act". It went so well that this year, we have decided on Purchasing, Law and Ethics – You'd Be Surprised!
You may think, "Ugh, that topic sounds boring".  If a professional speaker cannot make the material come alive, demonstrate relevance and value, and entertain you in the process, he or she needs to find another line of work.  At the magnificent Four Seasons Hotel in St. Louis, the Gateway to the West, ISA sponsors this workshop that serves both purchasing and sales pros.
Here are some questions we will discuss: (HINT – study up cuz there will be a quiz or two)
Is it illegal for a buyer or seller to be dishonest in negotiations?
Is it illegal for the buyer to tell the supplier what the price needs to be?
Is ethical behavior required, suggested, or not mentioned by the law.
What is or are the UCC?
What is or are the CISG?
What is the significance of the Robinson-Patman Act for buyers and sellers?
When is a gift to a customer a bribe (Hmmm)?
Is a written contract required for the purchase & sale of goods?
Can a buyer ethically divulge an incumbent supplier's price?
Is the price term necessary for the purchase & sale of goods?
Define "goods".
If all your answers are correct, you need not attend.  However, the next one who gets all answers correct will be the first!  None of us are born knowing this stuff.
Embarrassing Anecdote 
Upon reaching a negotiation impasse many years ago, I told a bright sales woman that, "I be Tarzan, you be Jane." Jane politely ignored my flaming ignorance and instructed me how acceding to my request would put us both in legal jeopardy with Reciprocity law.  I did not even know what Reciprocity was!  We still remain in touch as she helped save my "bacon".  That lesson remains with me as do the painful memories of other similar legal and ethical gaffes.
Speaking of saving bacon, look at the little piggy to the right. As a sales pro, did you ever make the colossal mistake of asking, "Where do I have to be?"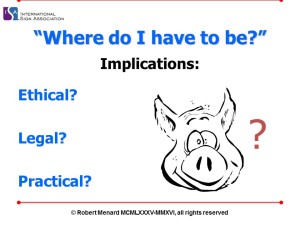 For the purchasing brethren, have you made the colossal mistake on the opposite side of the desk?  Did you get a little clever by suggesting a target much lower than competitors?  Did you indicate a range? Do we all realize that we are committing a crime when we engage in this behavior?
What will happen in the workshop?
The presentation will be energetic, humorous, and encouraging of your participation. Come prepared to do most of the work because interacting with fellow pros produces the best results.  We will do several exercises and quizzes in small teams.  You will record your input on flip charts and I will take your work with me so as to produce a post workshop report that ISA will distribute to attendees about 30 days after the event.
Each participant will receive a copy of You're the Buyer – You Negotiate It.  You'll also be receiving a Report on the session by the end of July.
See you in June at the sumptuous Four Seasons hotel in the fabulous town of St. Louis, Gateway to the West