The online course, "How to $ave Thousands Buying Buy a New or Used Car", has been expanded and republished to meet the demand from the car buying public.  In a larger sense, this online course solves the request for a knowledgeable and workable solution to perhaps the most predominant purchasing problem in America – that of how to buy a car!   
You will find practical advice along with personal anecdotes that punctuate the buying experience, and scores of pointers on what to do, what not to do, what to expect, and what you need to understand about the car buying world.
It is available here  for $77.  Use Coupon Code VOMRPDAL for a 25% discount.
Course Summary: 
A practical instruction guide for buyers packed with how-to advice and tips, background and explanations to save money when buying a new or used car.
Course Description: 
Most of us overpay when we buy a new or used car. How can we not?  All the sellers do every day, all day, is sell new and used cars. How often do we buy a new or used car, once every five to ten years?  That is economic lambs to the slaughter.
Instead of hiring someone to buy a car for you, or worse yet, charging off on your own to do battle with seasoned sales pros, learn how to buy a car like a pro and keep the savings in your pocket.  This course does exactly that.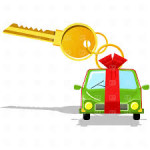 It teaches how to save hundreds, maybe thousands, of dollars when you buy a new or used car.  You will learn
the best places to find information about the car you want
how to determine which vehicle is best for you
if new or used is the best choice for you
how to negotiate with the dealer
how much to pay for a used car
how your credit affects finance costs
how to improve your credit
how to create a budget whether you buy a Maserati or a Mazda
essential laws about titles (without the title, you do not own it)
the "test drive" sales strategy
how to calculate resale value
how pricing methods may mislead you and how to avoid being deceived
the different ways to finance the car
about leasing compared with buying
how to factor in mileage and gas prices
what you need to know about trading in your old vehicle
about certified cars and service agreements.
how to manage the used car salesman and his manager
tips on negotiation
information resources
mistakes to avoid
Although this online course was written by a Certified Purchasing Professional (CPP), and Certified Professional Purchasing Manager CPPM), it is not aimed at the purchasing pro.  Ironically, purchasing pros would benefit by this course since they are not routinely engaged in this personal pursuit.
Watch a 41 second video by Robert Menard on the How to Buy a New or Used Car online course.
Praise for this course
"This course is a must! I learned so much and realize the many mistakes I've made in the past on a personal level when leasing/buying a car; but not anymore."  Susan Pace-Burke, CPP, AVP/Procurement Manager, New York Community Bancorp, Inc.