Editor's Note: A June series of three blog posts highlighted a supplier plant visit at the largest Volvo truck manufacturing plant in the world.  They are posted in consecutive order beginning with Part One.   A series of four posts in August dealt with Green Purchasing and Sustainability. This post deals with both Volvo and sustainability. 
Consider the importance of this statement made by Gunnar Stein, Volvo Construction Equipment's  global director of driveline systems about Volvo's hybrid-wheel-loader.  "All technology comes with a cost tag, and the hybrids are not there yet."  While these words in English, presumably translated from Swedish, are a tad cryptic, the result is an about face for Volvo's hybrid wheel loader plans announced with such vigor five years ago.  This link is Volvo's Construction Equipment (VolvoCE) hybrid-wheel-loader landing page which as of the date of this post, remains up on VolvoCE site.  
Because of the high costs involved with hybrids, all other global competitors except John Deere Construction & Forestry  have also backed off.  Stein further added that "The L220F (hybrid-wheel-loader model) suffered from not giving a return on investment, from a customer perspective."  This is so curious because Volvo claims that the extra expense of an electric motor and batteries was offset by the ability of the electric motor to assist in overcoming inertial startup or load conditions, and reduce carbon emissions by taking over for the diesel motor during idling, a whopping 40% as claimed by Volvo.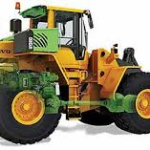 The cost tag to which Stein apparently refers is the extra expenses of an electric motor and substantial batteries.  The cost is too high, the payoff too low, and the advent of new technologies such as Continuously Variable Transmissions are improving fuel efficiency by as much as 25%, according to Volvo Construction Equipment estimates.   
For those interested in the sustainability aspects, in my book, Green Purchasing and Sustainability, link, the concept of fuels and how they are impacted by price changes is mapped out in detail.  The significance of Btu/$ cannot be understated.  The concept nis thoroughly misunderstood by most so called sustainability experts.   Clearly, Volvo does not fall into this class.
Stein also made a clear reference to competitive fuels by noting that while Volvo cannot fuel prices but would position itself to quickly re-enter the market should diesel prices rise dramatically.