The Dallas Morning news energy writer, James Osborne, reported in a story dated 20 August that natural gas sales for motor vehicles is running far ahead of projections.  He cites $2.2 million in tax revenues through the end of July even though the Texas comptroller's office had projected less than $1 million for the entire fiscal year 2014, which ends in August.   
To be certain, this revenue from natural gas shrinks to insignificance compared to gasoline and diesel fuel consumption.  In 2012, petroleum sales in Texas were about $118 Billion according t the U.S. Energy Information Administration as compared to the approximately $30 million in natural gas sales.  Yet, the doubling over expectations in natural gas may foreshadow future growth.    
Who is fueling the growth? 
The public and private sector have dipped their toes up to their ankles into the natural gas vehicle markets.  In 2012, the Dallas Area Rapid Transit (DART) tested 30 and 40-foot buses  fueled by compressed natural gas (CNG).  These heavy duty, low floor buses are scheduled to replace the current fleet of liquefied natural gas (LNG) and clean diesel buses which began service in 1998. The full fleet conversion should be complete in 2015. DART is building four CNG fueling stations so they are making a serious investment. 
Major private sector companies like UPS  are also testing the alternative fuels markets, including natural gas.   Clean Energy Fuels  based in CA but founded by the iconic T Boone Pickens, is the largest retailer of natural gas for automobiles.  Its sales are on the upswing and will build facilities around Texas as it anticipates the growing trend toward natural gas vehicles.  Besides a play on words, Love's,  the truck stop chain, will soon open a Compressed Natural Gas (CNG) filling station at Dallas's Love Field,  the smaller but "in town" airport compared to DFW International.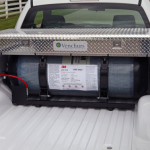 A major drawback to the use of natural gas powered vehicles is the loss of cargo and net payloads due to the large on board fuel tanks required.  Here is one example.   Yet, many fleet vehicles are not materially impacted by these tanks.  For example, utility companies deploy scores of patrol and trouble vehicles that carry little cargo more than laptops and portable tool kits.  Small package couriers and limo services do not rely upon ample cargo space.  Larger operators like UPS and FedEx, who do need the extra space and maximum payload, may well be more interested in image and Corporate Social Responsibility (CSR)  rather than unspecified economic benefits of natural gas.
Let the marketplace decide 
The battle of the fuels is a good thing.  As alternative fuels to gasoline and diesel become more plentiful and attractive, economic pressures will force prices down.  Some may choose natural gas for reasons other than price of energy equivalence and still others may believe in the environmental superiority of natural gas over other petroleum alternatives.  
I am all for all options all the time.