Many North Texas residents who live close to the Dallas Fort Worth International Airport (DFW)  fly frequently.  I am a two million miler so airport news in important to me, especially when it relates to sustainability.
An October 11, 2016 story in the Dallas Morning News (DMN) authored by Conor Shine, aviation writer, hooked local readers by stating that DFW turns off its air conditioning in summer months.  This is shocking since temperatures regularly exceed 100 degrees during the five month North Texas summer.
Instead of high cost electric powered air conditioning, derived from primarily fossil fuel sources, DFW deploys super cooled water pumped through pipes, which flow over heat exchangers that then deliver fan propelled cool air. Rather than beat up any reader on the physics, here is a Wiki explanation.  Others may prefer YouTube.  In short, purified water can be cooled below 32 degrees without freezing.
Although Shine does not mention it, DFW's motivation was as much reduced cost as it was carbon neutrality .  Enlightened green purchasing pros understand that going green means making green.  They are flip sides of the same coin.  Since 2011, all DFW busses run on natural gas,  a fuel harvested on the DFW premises of 17,000 acres.
Shine's story stresses that DFW is a Texas sized entity with 7 runways, 24/7/365 operation spread over five huge terminals handling 2,000 flights per day and 60,000 employees. In 2015, DFW was the third busiest airport in the world by aircraft movements and the tenth busiest airport in the world by passenger traffic.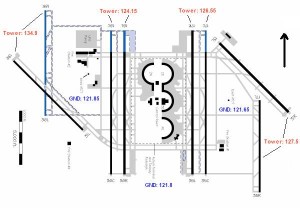 DFW is so serious about cost reduction that it uses continuous commissioning to adjust HVAC in terminals to serve time of day and passenger load demands.  Stunningly, DFW has achieved an 18% reduction in carbon emissions despite a 15% increase in passenger traffic.
DFW also buys wind energy. DFW's energy bill in 2006 was $32 million but is only $18 million in the most recent year.
Clearly, going green is good business.