Five years ago, while researching and writing Green Purchasing and Sustainability,  I discovered the "No Left Turn" policy developed in 2005 by UPS .  Ten years ago, UPS plotted driver routes using Global Positioning System (GPS) technology to save 28 million road miles, 3 million gallons of fuel, and earned much greater driver delivery efficiency by eliminating left turns.  It was a quintessential example of sustainability and cost savings.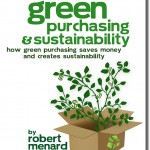 Wire reports this fall cite how UPS is increasing its efforts to go green and earn more green in the process.  In a typical nine hour shift, UPS drivers make between 50 and 150 deliveries and confront unpredictable and ever changing traffic challenges.  Encouraged by the success of technology and the cost savings which are also sustainability gains, UPS is raising the bar with a goal to save more than 100 million miles of road trips per year.
The motivation is an increase in online sales.  Black Friday 2015 earned the highest volume of Internet sales ever and is seen as an omen for the future by many retailers.  The National Retail Federation expects annual growth of 6% to 8% in online sales at the expense of traditional brick and mortar stores.  All of these online sales are not picked up at stores and must be delivered and thus the bonanza for courier firms like UPS and FedEx.  FedEx and UPS expect double digit increases in shipments for Christmas 2015 compared to Christmas 2014.
Technology plays a huge role
The goal is to use computers to minimize "human touches" as each touch introduces the possibility of an error.  Current software packages allow workers to process 40% more packages, a huge productivity gain.  But that is just the beginning.
UPS employs a routing technology called Orion, an acronym for On-Road Integrated Optimization and Navigation  which will be used on 70% of UPS routes this Christmas season.  According to UPS, it saw a reduction of 6-8 miles per route driven last year, which translates to lower fuel costs, emissions, tires, vehicle maintenance, etc.  The expectation is that UPS will reduce mileage by 100 million and reap all the savings along with sustainability gains.
UPS saved 3 million gallons of fuel during its testing of the program from 2010-2012 and says it will reduce consumption by another 1.5 million gallons this year. Once the program is rolled out to every driver by 2017, the company says it can save $50 million by taking just one mile off each of its driver's daily routes.  That is impressive by any standard.
UPS touts the environmental benefit of reducing fuel costs claiming that 1.5 million gallons of saved fuel eliminates 14,000 metric tons of carbon dioxide emissions. Is there any clearer evidence that green purchasing equals cost reduction?