Transportation of goods is such an interesting and constantly changing market dynamic. I learned a good deal about transportation in the late 1990s when I was hired to research, write, and deliver a program on logistics for the Portland Cement Association.  A few years later, I was fortunate to write and deliver training programs for Burlington Northern Santa Fe Railways (BNSF)  , where I learned much about transportation in general, and rail transportation in particular.
For more than a century, trains hauled coal, the workhorse fuel of choice in the U.S., even as oil and gas grew more competitive through much of the 20th Century. Coal was hauled on "unit trains", meaning one cargo category for the entire 100 – 125 car shipment, as opposed to "manifest" trains, meaning mixed cargo categories distributed on cars of the shipment. Coal shipments are falling off as alternative fuels become preferred energy options so why are BNSF and competitors like Union Pacific Corp (UP) and CSX Corp investing so heavily in new infrastructure and capacity?
Railroad operators have seen a drip off in coal traffic of 20% in the past five years, according to data compiled by Bloomberg Business.  On the other hand, failure to build the XL Pipeline has been a huge boost for rail firms. They are buying new tanker cars since rail transport is cheaper than truck transport of petroleum products. But that is not all. Rail companies are investing heavily in new track lines and facilities. Here is why.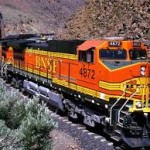 BNSF is nearly finished with a second parallel rail line along the 2,200 mile Los Angeles, the busiest U.S. container port to Chicago, the biggest mid-continent rail hub. The second track will virtually eliminate sidetracking as oncoming trains approach each other. For decades, trains on the single track headed toward each other had to communicate so that the priority train (BNSF and UP refer to priority trains of Amtrak passenger or unit FedEx or UPS freight as Z trains) could proceed and the secondary train side tracked. Both trains had to slow down over long periods of time and lost hours in the process.
Without cumbersome sidetracking, longer trains will be able to travel at higher speeds, increasing load and decreasing time. An industry source, FTR Transportation Intelligence estimates that rail moves less than one-fifth of the 71 million trailer loads that travel 550 miles or more. The 550 mile cutoff is the accepted distance where rail becomes the preferred alternative. For comparison's sake, one rail car carries as much freight as four truck trailers so a 100 car train hauls the equivalent of 400 trailer trucks.
Converting road cargo to rail cargo is the goal of the infrastructure investment. The lure for customers is substantial savings. Over the road, one ton of freight can be moved approximately 60 miles on one gallon of fuel. That same ton of freight can be moved 200 miles over the rails for the same gallon of fuel. Using $2.00/per gallon as a fuel price, it costs $0.033/ton-mile over the road and $0.010/ton-mile over the rails to move one ton of freight – less than one third of the cost! Multiply that difference by hundreds of thousands of tons and the savings become irresistible, or so goes the theory.
According to XPO Logistics , about one third of long-haul freight it sends by truck can be switched to train. Industry wide, XPO estimates that about $100 Billion in business could be switched to rail transportation.
It will take some effort to persuade shippers to shift from road to rail. Still, some freight categories less time sensitive like auto parts, furniture, and building materials are probably moved more efficiently and cheaply by rail. One of the biggest investors in rail is Warren Buffet, chairman of Berkshire Hathaway. Betting against Warren may not be a good business decision.